Recent Shows:
Two-Person Show – David Reeser and Scott Gordon, GraySpace Gallery, 219 Gray Ave, Santa Barbara, California.
March 11 – May 15 2016
Two-Person Show of paintings and prints at the Gallery Montecito, 1277 Coast Village Rd. Montecito, California. Sept. – Oct 2015.
Ojai Studio Artist Tour – Open Studio Show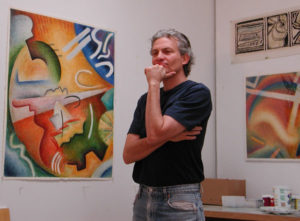 About
Originally from Southern New Jersey, I grew up in small rural towns in the Pine Barrens near the Jersey Shore. At age 18, my passion for making art led me to art school. I studied with many notable Abstract and Expressionist painters including, T. Lux Feininger and Henry Schwartz at the Boston Museum School.
I have always worked with printmaking along with painting and after graduating with a BFA from Tufts Univ., I had the opportunity to study printmaking with Hitoshi Nakazato at the Univ. of Pennsylvania Graduate School of Fine Arts. There I also worked closely with a master Japanese woodblock printer and carver Shige Tsukaguchi.
In 1981 I received my MFA and taught painting and color theory at a college near Trenton NJ. Relocating to Los Angeles, I focused on my work and became active in the arts scene. In the mid 80's I moved to Ojai and set-up my studio where I paint and print etchings and woodcuts.
My teaching career also resumed and I became the Chairman of the Art Department at the Thacher School for several years. I later started my own graphic and web design business in downtown Ojai. Working digitally has given me many new tools for discovering shape and color.
The woodcut prints are made primarily with the subtraction technique, where a light color is printed then the block is cut away, and the next darker or contrasting color is overprinted. Often the key block of the darkest color is printed last. The prints are made up of between eight and fourteen layers of color.
The traditional Intaglio techniques of dry point, line etching, and mezzotint, also effectively communicate my abstract language.
My work is concerned primarily with motion and color. The compositions are both contemplated and spontaneous organizations of organic forms and gestural lines that move and interact in an energized space of color, producing motion, emotion and light.
The watercolor paintings are technically somewhat different from the traditional way the medium is used. I use many layers of color, built up with brush stroke texture, to achieve a greater saturation and density of color which produces varying degrees of transparency and opacity.
My art and its process is a driving force in my life. I hope you enjoy the work.
About the Home Page: Along with my work in traditional media, I also make digital paintings using Illustrator and Photoshop.
The image on the Home page is an example.